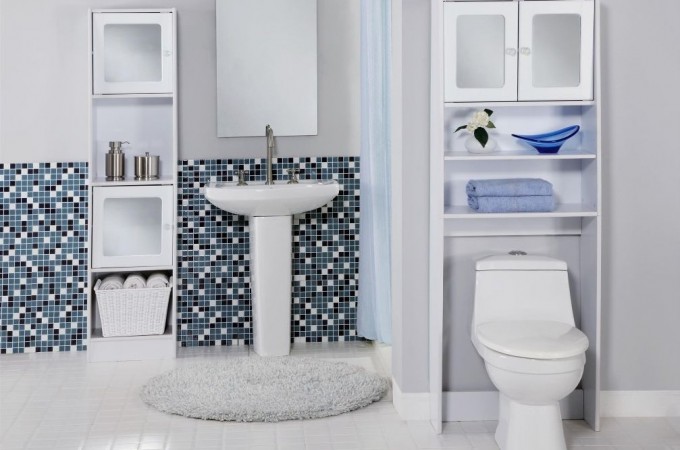 Space-Saving Bathroom Furniture
In smaller bathrooms and cloakrooms, without having sufficient storage space available, it can be all too easy for the toiletries, cosmetics and cleaning products that accumulate in every bathroom over time to start to overwhelm and dominate the space. With all of your assorted bathroom products left out on surfaces or stuffed into whatever nooks and crannies are available, the bathroom can start to feel camped and cluttered and uninviting.
By installing some bathroom furniture to keep all of your bathroom products neatly organised and categorised but out of sight, you will notice an immediate change in your bathroom, that it feels larger and more calm and comfortable. The recent resurgence in the popularity of bathroom furniture means that there are now hundreds of different sizes and shapes available, but in the smaller bathroom, that are three key varieties that have proved themselves to be most effective time and again.
Fitted units are a fantastic option in rooms with limited space, and a fitted basin vanity unit will allow you to keep your basin area clear and clean, will provided you with ample surface area on which to work, as by virtue of sitting flush against your walls and floor, will help to create a more streamlined overall look in your bathroom. The number of drawers and cupboards is entirely dependent on your personal preference, just remember to factor in how many people will be using the bathroom on a daily basis and how you wish to categorise and arrange your bathroom products. Fitted furniture also generally only occupies floor space that would go unused, so you won't feel that you are sacrificing too much room in order to achieve a tidy basin area.
Next up we have wall-mounted cabinets, which come in standard and mirrored finishes. Mirrored cabinets can be a handy replacement for your bathroom mirror, retaining the same functionality as before, and yet simply gaining more storage space. Wall-mounted cabinets can be useful in family households with young children, as somewhere to safely store any medicines and supplements out of reach. This type of storage unit won't cost you any floor space and will only project a few inches into the room, making the most efficient option of the top three.
Finally there is the tall, narrow freestanding unit know as the Tallboy. These furniture pieces have a deceptively large storage capacity for a very small footprint, and have styling and a finish that makes them look as though they could be placed in any room in the house. Tallboy units are the perfect choice for instantly making your bathroom look more thought out and designed, whilst they can slightly larger bathroom items like spare towels and toilet rolls.
Creating a smaller bathroom that has sufficient storage for all of your bathroom products is now easier to accomplish than ever before, and all it takes is a few clicks of your mouse and a little research. Why not have a look around and start planning your new bathroom today?
Recommended