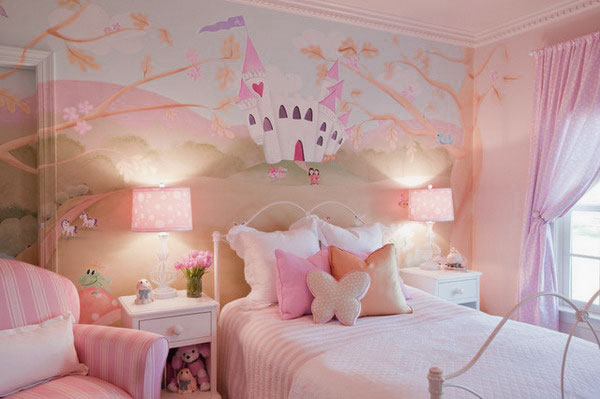 Decorating Your Little Girls Bedroom
Every little girl deserves a bedroom that is her own place – something that reflects her personality and is a sanctuary she can retreat to. One of the most important elements in your little girls room is the bed. Before you decide on that perfect bed, there is a few things you want to keep in mind.
There are many beds available specifically for little girls on the market these days. The design taste of girls is quite different from boys in terms of shape, color, and pattern therefore there are beds that are made especially to perfectly fit just what your little girl wants. The beds made for girls are unique in terms of size and shape as well as the mattresses that go with these beds.
Size
You can buy beds for your girls room in a variety of sizes but if you have space constraints or want just the standard size then buy a bed that is 39″ wide x 75″ long" which is the standard size for a single bed. If you have a larger room, you might want to look into a full or queen size bed which your girl can keep as she grows older.
Shape
Girls prefer romantic shapes like the heart, but if you can't get that then a nice princess bed with fanciful bedding and colorful motif is great. You can buy novelty beds that look like castles, or perhaps a canopy bed with a sheer material on top?
Decorating
Most girls prefer pastel shades like pink and mauve, but each child is an individual so decorating your girls room should be an adventure for you and your little girl. Take her to a furniture store that has bedroom setting and let her show you what she likes then pick the bedding and decor to match. When buying sheets and comforters, make sure you buy the best quality you can afford as cheap bedding will not last and will end up costing money in the long run.
Patterns and motifs
Girls love feminine motifs and patterns which can be painted on the walls or furniture and replicated in matching sheets. Installing matching curtains and drapes will give an overall finished look to the room. Some suggested patterns include — Floral patterns — These are the favorite among most of the girls. Animals and butterflies or teddy bears are also popular as is any kind of fairy or fantasy motif. Bright but contrasting colors like yellow and red might be a favorite among some kids while other will prefer a lighter powder pink which looks great with lines and dots.
Cost
Since the variety of beds available is so large, there is no definite estimate of the cost, however, you should budget anywhere from 100 to 500 dollars. Cost depends upon the fabric used for the sheets and pillows and the brand that is used for the bed as well as the style of bed and other accessories you will be adding to the room.
Recommended